REHABILITATION AND MODERNISATION OF THE GUELB1 FACTORY ISLAMIC - REPUBLIC OF MAURITANIA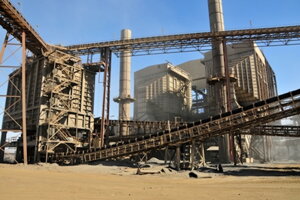 Main Information 
| | |
| --- | --- |
| Country |  Mautitania |
| State/Region |  Zouerate |
| Financing | ARAB FUND FOR ECONOMIC AND SOCIAL DEVELOPMENT (AFESD) |
| Ref. Number |  DDRDM N ° 017/2019 |
| Subject |  International Project for the rehabilitation and modernization of the GUELB1 factory in Zouerate. |
| Deadline |  31.08.2020, at 10:00 a.m. |
| Opening date |  31.08.2020, at 10:00 a.m.  |
Scope of Work
The National Industrial and Mining Company (SNIM) (Site: www.snim.com) is launching an Open and international project for the rehabilitation and modernisation of the GUELB1 factory in Zouerate.
This project consists of the realisation of the design and detail engineering study, the supply of equipment, the civil works, the installation, the tests and the commissioning of:
Lot 1: Secondary crushing unit and its accessories.
Lot 2: HPGR grinding unit.
Lot 3: HPGR press circuit for mixed processing.
Supply Chain Director:
Email: dps@snim.com.
Mandatory
Visiting the site is compulsory; it will take place in June 2020 at the Guelb1- SNIM Zouerate factory. Bidders must announce their participation in the visit by writing to the following address: dps@snim.com.
Download Documents
The complete description and submission instructions and requirements are provided in the following documents: