SUPPLY, INSTALLATION AND COMMISSIONING OF CONTROL VALVE DIAGNOSIS SOFTWARE AND ACCESSORIES FOR OLKARIA GEOTHERMAL STEAMFIELDS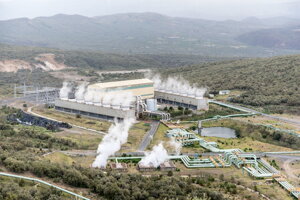 Main Information 
Country
 Kenya
State/Region
 Nairobi
Financing
 KENYA ELECTRICITY GENERATING COMPANY PLC
Ref. Number
 KGN-GDD-058-2020
Subject

 EPC of control valve software and accessories for Olkaria Geothermal Power Plant.

Deadline
 

22.04.2020, at 14:00 a.m.

Openning date
 

22.04.2020, at 14:30 a.m.
Scope of Work
KENGEN invites sealed tenders from eligible candidates for the the Supply, Install and Commission of Control Valve Diagnosis Software and Accessories for Olkaria Geothermal Steamfields whose specifications are detailed in the Tender Document.
Interested eligible candidates may obtain further information from and inspect the Tender Documents during official working hours starting at the date of advert at the office of:
Supply Chain Director:
Tel: (254) (020) 3666000
Email: tenders@kengen.co.ke; Cc: WNyangweso@kengen.co.ke
Eligible Goods
All goods to be supplied under the contract shall have their origin in eligible source countries, consisting of the place where the goods are mined, grown, or produced. Goods are produced when, through manufacturing, processing, or substantial and major assembly of components, a commercially- recognized product results that is substantially different in basic characteristics or in purpose or utility from its components. The origin of Goods is distinct from the nationality of the Tenderer.
Download Document
The complete description and submission instructions and requirements are provided in the following document: