Description
The two-way meter to record energy consumption in the home.
The Fronius Single Phase TS 50kA-3 Smart Energy Meter is a two-way smart meter that optimizes self-consumption and records the household load curve. It is designed for intelligent energy management.
The Fronius Smart Meter is a bidirectional meter, which optimises self-consumption, records the load curve and controls the various energy flows. Thanks to highly accurate measurements and rapid communication via the Modbus RTU interface, dynamic feed-in control when feed-in limits are imposed is faster and more accurate than with the S0 meter.
Together with the Fronius Solar.web, the Smart Meter presents a clear overview of the power consumption. In combination with the Fronius storage solutions, the device ensures a perfect coordination of various energy flows, which optimises the entire energy management. The Fronius Smart Meter is ideally suited for use with the GEN24 Plus, as well as all Fronius inverters with the Fronius Datamanager 2.0.
Configuration Diagram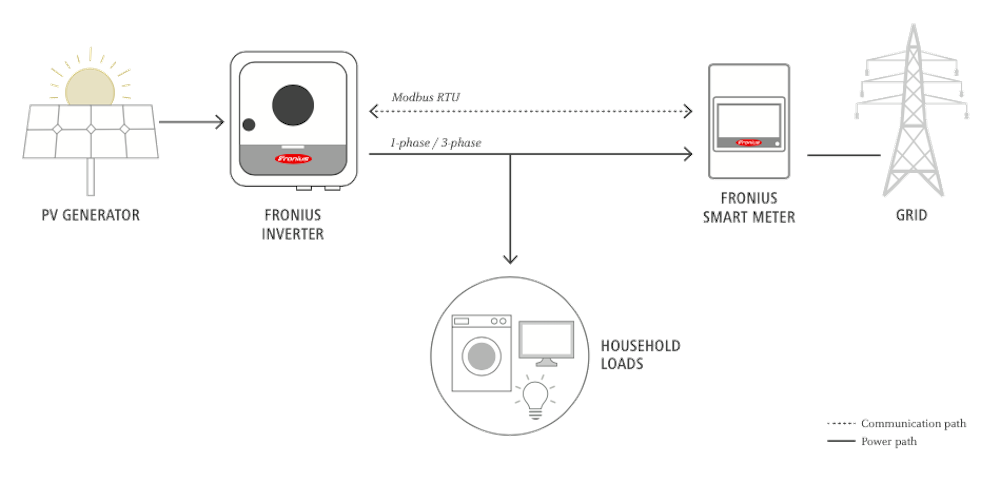 The Fronius Smart Meter TS 50kA-3 is compatible with all three phase Fronius inverters with an RS485 interface (Modbus RTU). The Fronius Smart Meter can be retrofitted at any time together with the Fronius Datamanager 2.0 in inverters that have already been installed.
General Data
Maximum current: 3 X 50,000 A
Nominal Voltage: 400-415 V

Connection cross section, current pathl: 0.05

-4 mm2

Connection cross section, communication and neutral conductor: 

0.05-4 mm2

Electric Consumption: 2.5 W

Degre of protection: IP 51 (front panel) / IP 20 (terminals)

start-up current: 40 mA

Overload (Short-term): 20 x Imax/0,5 s

Display: 8-digit LCD

Interface to inverter: Modbus RTU (RS485)

Specified operating range: -25 ... +55 °C

Domensions (W x H x D): 71.2 x 89 x 65.6 mm

Weight: 0.24 kg
Advantages
Fast and accurate dynamic feed-in control
Clear overview of power consumption in Fronius Solar.web
Optimised energy management with the Fronius Energy Package storage solution
Downloads